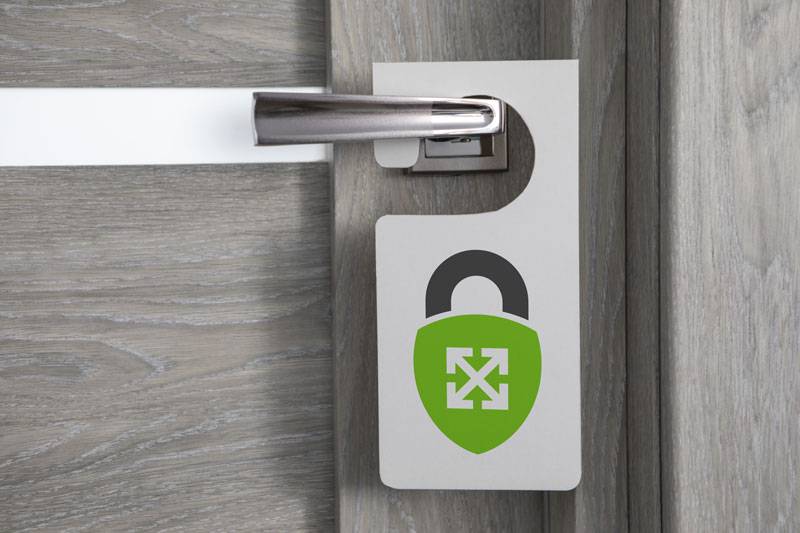 Ah, the carefree world of consulting seems so glamorous. Exploring the cities you've only dreamed of visiting, sharing your expertise with client after client, and of course the expense account! It has definite up sides and allure.
In reality, the day-to-day can be a bit more mundane and on occasion, the lack of familiarity of a city can be daunting. You don't know if this is the sketchy part of town, or only "has character." You can do some data gathering prior to your arrival, ask around to locals and certainly check with the client you are visiting. But there are also precautions you can take regardless of your destination to ensure you have peace of mind that will allow you to focus on delivering a great product or service to your intended audience.
I am happy to share this list of ways you can up your game when on travel, business or personal. I'd love to hear if I missed anything you consider essential–tweet us after reading and we can all grow smarter!
Ridesharing Services
Let's be honest… consultants are always on the go or even running a tad bit late. Ridesharing services have become a convenient and cheaper option to get to an airport, a hotel, or even a client site. Just like security in airports, there should be awareness of precautions in ridesharing services. As a woman in security, here are some tips that have helped me during my quick commutes:
Be aware of your surroundings
Always verify your driver and their vehicle
Share your trip location with a friend or family member
Pay attention to the map to ensure the trip is in the right direction
Don't give out personal or client information
Hotel Check-in
There are discrete ways of protecting your information while checking into a hotel. I often slip my ID, credit card, and a slip of paper to the front desk agent with a smile. The paper might read: Please do not say my name and room number out loud. You never know who may be eavesdropping in the lobby! This may not be the first time a receptionist has seen this action, as I witnessed on numerous occasions. Here are a few security tips for your hotel check-in process:
Do not request a room on the first floor (easiest access) or very top floor (difficulty for first responders to access)
Can't stress enough, watch your surroundings!
A full swipe of your room; checking all doors, closets, balconies, etc.
Place the Do Not Disturb signs/magnets on the door.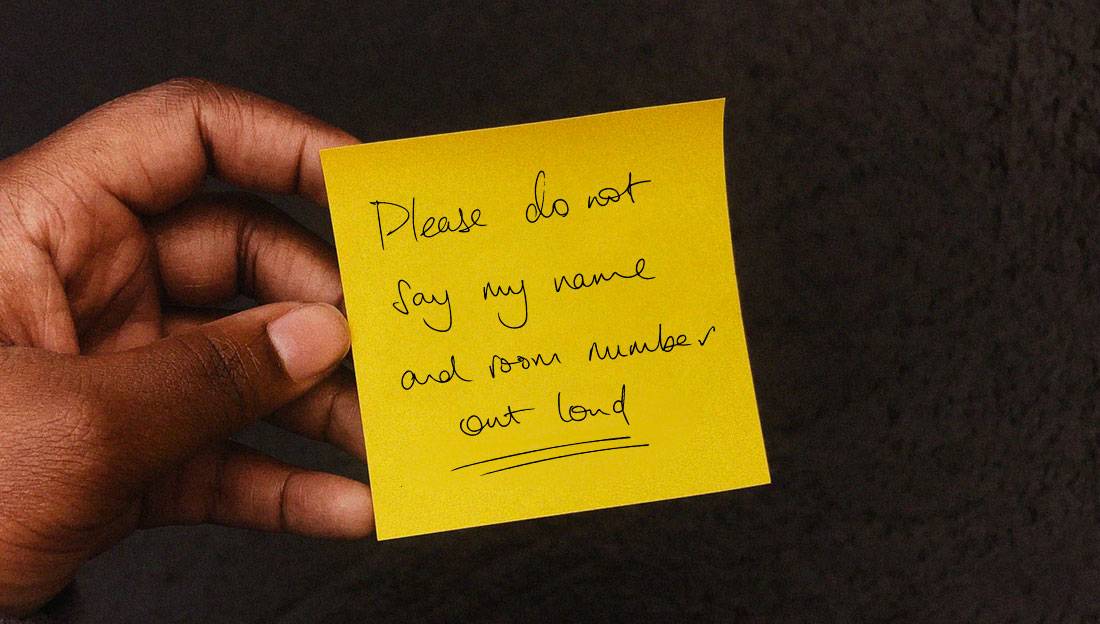 Hotel Stay
A few months ago, I was cleaning up my hotel room and packing for an early flight the next morning. Upon clearing off the dining table in the suite, I saw that the water bottle (the ones hotels charge crazy amounts for opening) seal had been broken. After staring it down confused, I noticed that there had been water missing from the bottle. I was filled with uneasiness, immediately knowing someone had entered my room. I requested no housekeeping that day and left the Do Not Disturb magnet sign on the door. The magnet was removed from my door, but no housekeeping was done to my room. Why did someone enter my room?
Only request housekeeping if necessary! It's important to note that hotels have the right to enter your room after 3 consecutive days of you staying in the hotel. To avoid this, you can call down to the front desk and request no services until checkout. If the maintenance must enter your room, you can request the hotel to notify you in advance of entry. Protect your laptops and other devices in a safe or take them with you when leaving the room.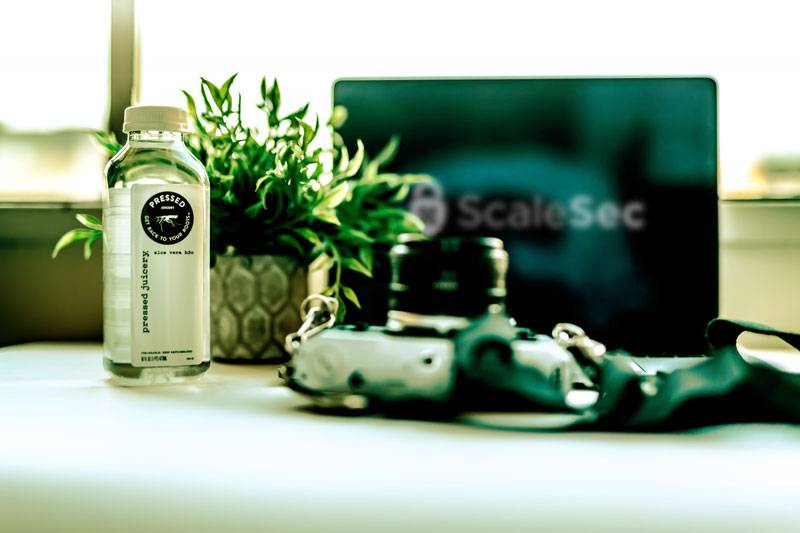 As traveling consultants, a hotel becomes a home away from home for a few days. We should want our hotel room to feel as secure and safe as our home. It was a nerve-racking experience when someone entered my room without my knowledge. This leads me to never leaving on a business trip without these security devices:
This USB wall adapter is the perfect recording spy camera for your hotel room. I enjoy this tiny device due to the discrete placement in a wall outlet. It utilizes an actual adapter that can charge devices. I can charge my tablet while I stare at you…or the wall.
Full HD 1080P video with a wide 90-degree angle
Motion detection
USB charger
Loop recording
No WiFi Required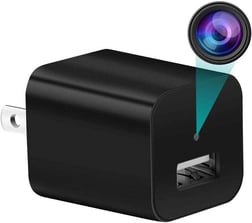 The mini spy camera is perfect for tossing in a random area facing valuables or the door. This camera can turn on and record when it senses movement or record 24/7 when it's charging. Perfect for stuffing in a teddy or in between pillows.
Full HD 1080P video with wide lens 140-degree angle
Night Vision
Motion detection
Loop recording
No WiFi Required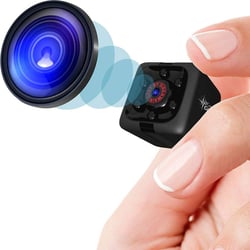 For all my heavy sleepers, this one's for you! The door stop is placed behind the door and if someone opens your door, the alarm will blare out extremely loud to warn you. Thankfully I never had to use this one, but I've tested it at home. My dog is not a fan of the loudness!
High/Med/Low sensitivity
High damping rubber to prevent the door sliding the stopper.
Loud alarm triggers when the door opens
Lightweight and portable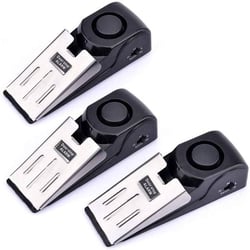 The portable door lock is an extra layer of security for most hotels or home doors. The heavy-duty metal steel gives this lock the durability to set your mind at ease. There will be no accidental entries on your watch! Hotel personnel cannot open your door even with a master key.
Heavy-duty steel
Small and portable - can fit in a pocket
Easy install
Extra security on hotel doors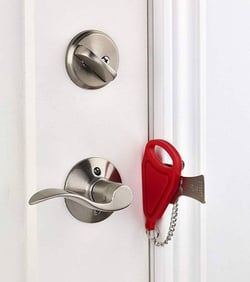 Hotel Check-out
Checking out of your hotel can be a smooth sailing process if you always consider security. You should check and double-check your room for all your belongings. Safely discard all trash, papers, sticky notes, etc. that may contain PII, company intellectual, or client information. Remove all sensitive or intel gathering information (I sound like a spy). I like to opt-in to mobile app check-out when available and receiving my hotel bill via email. I avoid having to share any details of my departure and destination in the lobby. Smooth process….CHECK!
Conclusion
Before you head off on your next business trip, consider these security precautions. You never know when you will need them, but at least you will be prepared.
We would love to hear your security routine when traveling - mention @ScaleSec on Twitter with your recommendations.
Safe travels!
Written in collaboration with Marsha Wilson, CEO.